Define. Develop. Deploy. Deliver.
Four simple words. However, they can make a massive difference to your website.
By not remotely focusing on technique, SowiesoDigital succeeds in creating websites that have reach. In the first place, being able to reach your target audience. And in the end, what it is all about, getting results. A goal that our colleagues of communication agency SowiesoHelder can help with by underpinning strategy, which allows us to take that basis further digitally. We define the optimal website. We develop it (technically and with strong content and additional tools if required). We deploy it and make sure that it is constantly up-to-date. And most importantly: we make sure your website delivers.
Define
Digital design is the translation of your brand concept for all digital means. Sometimes a brand concept has already been developed and we can translate the brand experience into a look & feel, tone of voice, (web) animations, and video & photography style. If a brand concept has not been developed yet, we can help with that too, for example, using our Brand accelerator®. We cooperate with SowiesoHelder so that concept & strategy and our digital expertise reinforce each other.
see our approach in defining
Develop
The construction of a website consists of two parts; front-end and back-end. The front-end is what the user experiences and interacts with, and the back-end is the technology behind it. From development to performance – and every phase in between – we use all modern techniques. The team is well versed in HTML5, CSS3, Javascript, React, PHP, Bootstrap, WordPress and PHP frameworks such as Laravel. We have also developed our own tool for optimal performance.
view our approach to development
Deploy
You don't just want a technically sound website; you also want it to run smoothly. Good reachability, optimal speed, and GDPR proof. Our starting point is that everything runs well and without problems. In addition, security is also of the highest importance at SowiesoDigital. It can revolve around software updates, daily backups, or security plugins. We ensure that the security of your website is continuously monitored.
VPS hosting Website security Website maintenance
Domain name registration Website analyse
read more about what else we deploy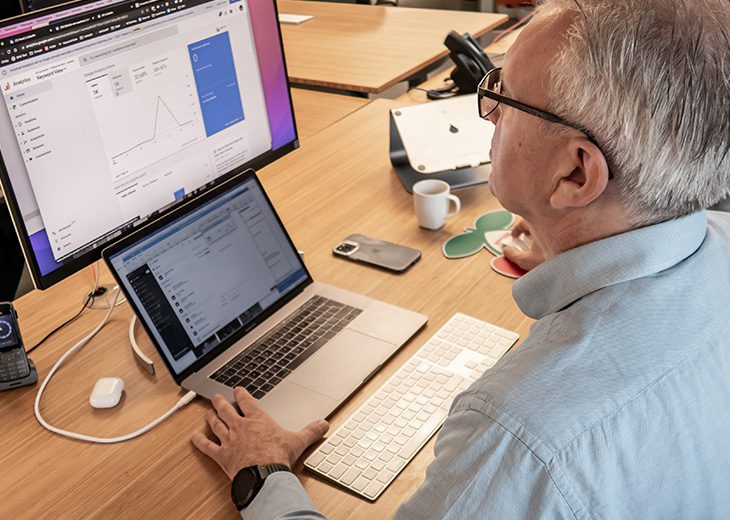 Deliver
And finally, because that is what it is all about: delivering. It starts with having a solid foundation, a strategically underpinned 'concrete floor' that puts your goals first. After that, the main focus lies on expanding your reach. So we like to promote your brand through online advertising, search engine marketing, search engine optimisation, email marketing, content marketing, and social media. We strongly believe in the inbound strategy, which we are keen to tell you more about. In short: gaining relevancy. Being present at the exact moment that (potential) clients need you.
read what else we deliver
Getting started with
SowiesoDigital?
As you can see, we can offer you a wide range of services. At every stage and in many types of digital expertise. Let us know what you need help with; we'll be happy to take it on with and for you.